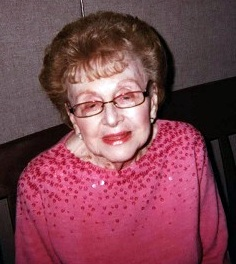 Obituary of Marion A. D'Augostine
Marion (Elbeuf) D'Augostine
1924-2018
Our Beautiful Mom and Mommom, Marion (Elbeuf) D'Augustine, breathed her final breath peacefully with her family by her side and awoke in the presence of her Savior, Jesus Christ. She kept us all entertained until the very end with singing and stories.
Marion was a member of Christ Community Church in Newfield NJ. She graduated from VHS, Class of 1941. In the past, Marion was a member of the woman's auxiliary of Fire Co #1, Ladies of North Italy Club, and the Wheat Road Social Club. She loved all sports but especially her "PHILLIES"! Marion loved reading the Bible and read hers daily. Most of all she loved her family and gathering with them at family parties. She especially loved visits from her grandchildren. We as a family find great joy in knowing our Mom and Mommom will have perfect hair, eyebrows, and lipstick in heaven forever.
Marion is preceded by her mother, Rose (Trunco) Elbeuf; father, Peter Elbeuf; brother, Joseph Elbeuf; husband, Dominic D'Augostine.
Marion is survived by her sons, Billy D'Augostine, Dennis D'Augostine and Diane (Fergona) D'Augostine, Wayne D'Augostine and Lois DePasquale; daughter, Lynn (D'Augostine) Wilson and Anthony Wilson; daughter in law, Barbara Sheldon and Bill Sheldon; grandchildren, Kimberly Medio and husband Frank, Lori Provost and husband Larry, Jayme Carter , Dennis D'Augostine and wife Kelly, Rebecca Quinones and husband Jose, Lisa Rudd and husband Matthew, Wayne D'Augostine, Abby Behrens and husband Jeffrey and 18 great grandchildren, sister in laws, brother in laws, many nieces, nephews, and cousins.
Family and friends will be received on Wednesday, March 28, 2018 from 5:30pm to 7:30pm at DeMarco-Luisi Funeral Home 2755 S. Lincoln Ave., Vineland, with a service to follow at 7:30pm with Pastor Tony Wilson officiating. On Thursday morning a gathering of family and friends will be held at the funeral home from 10am to 11am and will depart to Sacred Heart Cemetery, Vineland where Marion will be laid to rest. Memories, thoughts and prayers may be extended to the family by visiting dlfuneral.com.