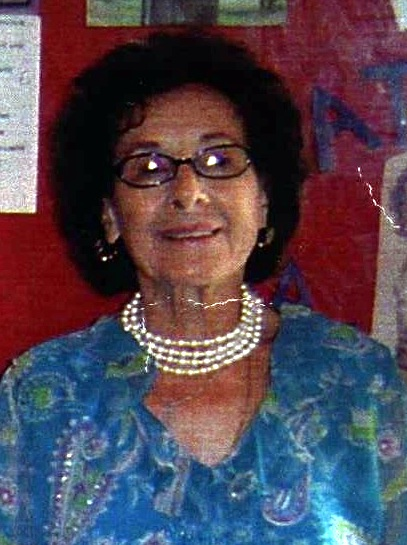 Obituary of Mary Landi
Mary A. (Serra) Landi, 97, beloved wife of the late Chester E. Landi went peacefully with the Lord on Monday, May 28, 2018. Born in Vineland and a resident of Buena, she was a devoted wife, mother, sister, grandmother, and great-grandmother to her large, close-knit family. She was married to her adoring husband, Chester, for 63 years. Together they cherished all of life's special moments and milestones, fun family gatherings, romantic ballroom dancing to Big Band, and the exciting entertainment of the Atlantic City Casinos. Mary worked as a seamstress for 20 years at Rose Brothers and DiPaola Clothing in Vineland. She was a deeply devout Catholic and spent countless hours in daily prayer, regularly dedicating them for her family. She was also a Eucharistic Minister for many years at Sacred Heart Church. Her strong faith in God and love for family brought her much joy and happiness throughout her lifetime.
Mary and Chester have left behind a beautiful legacy. She is survived by her four sons, Richard Landi Sr. (Elaine), James Landi Sr. (Dale), Joseph Landi Sr. (Denise), and Thomas Landi (Jennifer); her two brothers Solve Serra and Joseph Serra (Laura), and one sister, Ellen Serra. She was a loving grandmother to twelve grandchildren: James Landi Jr. (Megan), Richard Landi Jr. (Jill), Jessica Suppa (Matt), Keith Landi (Alissa), Dana Davis (Bryan), Joseph Landi Jr. (Toni), Adam Landi (Samantha), Melissa Sheftall (Cody), Ashley Landi, Joshua Landi (Katie), Matthew Landi, and Allison Landi. She also very dearly loved her twelve great-grandchildren, Hayden, Tyler, Mackenzie, Owen, Payton, Juliana, Jackson, Jordyn, Giana, Cameron, Kayla, and CJ. She is predeceased by her parents, Thomas and Felicia Serra; brothers Rocco, John, and Thomas "Tony"; and her sisters, Rose Giovinazzi and Carmella Casella.
Mary's grace, kindness, and compassion for others was part of her beautiful aura that would light up any room. She was the true embodiment of a matriarch, even spending her final moments surrounded by her loving family. Her spirit will live on forever in our hearts as she continues to bless each of us from heaven.
Family and friends will be received on Friday, June 1, 2018 from 9am to 10:45am at Christ the Good Shepherd Parish, Sacred Heart Church, 1010 E. Landis Ave., Vineland, followed by a funeral liturgy at 11am. Mary will be laid to rest at Sacred Heart Cemetery, Vineland. To commemorate Mary, flowers may be sent to the Church or contributions may be made to Christ the Good Shepherd Parish, St. Vincent de Paul Society, 1615 Magnolia Rd Vineland, NJ 08361 or Xaverian Missionaries of Mary, 242 Salisbury St Worcester, MA 01609-1639. Arrangements are by DeMarco-Luisi Funeral Home 2755 S. Lincoln Ave., Vineland.