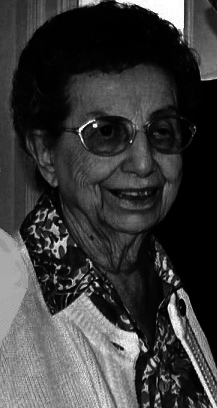 Obituary of Theresa Asselta
Theresa M. Asselta, 92 of Newfield and St. Augustine, Florida passed away on July 5, 2018, surrounded by her family. Born in Atlantic City, she was a graduate of Atlantic City High School, Class of 1944. She was married in 1946 to the late Daniel Asselta and together they raised three children.
Theresa was a member of St. Rose of Lima Church in Newfield, served as an officer of the Altar and Rosary Society and was a member of the Vineland Women's Club.
She was an avid reader, expert bridge player and enjoyed doing crossword puzzles, jigsaw puzzles and playing cards with the family where she was (annoyingly) unbeatable. Her greatest joys in life included yearly vacations in Sea Isle with the entire family and time spent at her second home in St. Augustine, Florida.
Theresa is predeceased by her husband of 70 years, Daniel Asselta; her parents, Joseph and Pauline (Garramone) Delesantro; brother's, Frank Delesantro and George Delesantro, and son-in-law, Patrick Boniello.
She is survived by three children, Diane Boniello, Jim (Lyn) Asselta of St. Augustine, Florida, and Mary Ann Luciano (Feek). She was affectionately known as "MeMom" to 5 granddaughters, Pamela (Doug) Brunini, Laura (Ryan) Miller, Danielle (Bob) Sapienza, Kate (Paul) Trebelhorn and Maya Asselta; 5 great-grandchildren, Gianna and Julia Brunini, Ryder and Cala Miller and Camila Trebelhorn. She is also survived by two sisters-in-law, Marietta Delesantro and Vivian Panichello, her special cousin, Phyllis Fiore and many nieces and nephews.
Family and friends will be received on Saturday morning from 9am to 10:45am, followed by an 11am Funeral Liturgy at Our Lady of the Blessed Sacrament Parish, St. Rose of Lima Church, 104 Catawba Ave., Newfield. Theresa will be laid to rest at Rose Hill Cemetery, Newfield. In lieu of flowers, memorial contributions in Theresa's name can be made to Newfield Public Library. Arrangements are by DeMarco-Luisi Funeral Home, 2755 S. Lincoln Ave., Vineland. Memories, thoughts and prayers may be extended to the family by visiting dlfuneral.com.